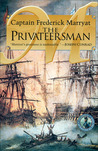 The Privateersman
by
Frederick Marryat
My rating:
5 of 5 stars
Now
this
was a ripping good yarn! Swashbuckling! Pirates! Privateers! Romance! Really, what more do you want from your reading?
Capt. Marryat was one of the premier authors of naval fiction in the 19th c., and his stories still hold up over 100 years later. In this tale we have the story of a young man's journey from callow sea rover to an adulthood filled with drama and command, turmoil and travail, but at the end of the story is the love of a good woman and a just reward.
I recommend the
Privateersman
to armchair sailors who enjoy Forrester and O'Brien. You can't go wrong with the author other authors (Melville, for example) credit with inspiring them to write their own tales of life at sea.
View all my reviews