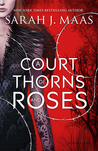 A Court of Thorns and Roses
by
Sarah J. Maas
My rating:
3 of 5 stars
An effective mash-up of
Beauty & the Beast
and
Tam-Lin
, with a sprinkling of
Hunger Games
. I was pleased at how secondary characters had layer and depth, something not always seen in the classic stories.
I'm still not sure why it's considered YA, except for the age of the heroine. 19 seems pretty grown-up to me, especially when she's sexually active (not a spoiler) and taking care of her entire family.
I'm intrigued enough to want to read the next book when Ms. Maas publishes it.
View all my reviews